P.E.Tubes
Plastic Extruded (P.E.) Tubes are seamless tubes that are used in the packaging of high-end products in a range of businesses especially cosmetics, toiletries and food.
H&H Marketing provides P.E. Plastic Tubes in two layers. The materials available are low density, linear low, medium and high density polyethylene. P.E. plastic tubes contents will dictate its structural requirements.
P.E. Plastic Tubes are a great packaging solution for cosmetic tubes. The tube will stand out amongst others when in display. It will go back to its original shape after squeezing.
The P.E. Tubes are ideal for hand creams, shampoos, and various other cosmetics and toiletries, such as cleansing creams, facial masks, hair gel, shower gel, tanning lotions and various other dermatological products.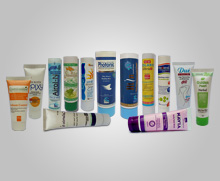 Highly Attractive
Leak Proof
Light Weight
Versatile
Easy to Assemble
Flexible
Specificatoin Chart
| Dia | Standard Length | Length Range | Thread | Volume |
| --- | --- | --- | --- | --- |
| 22.0 mm | 80 mm | 60-120 mm | M-10 | 15-22 ml/gm |
| 25.0 mm | 100 mm | 80-145 mm | M-14 | 20-40 ml/gm |
| 30.0 mm | 110 mm | 80-160 mm | M-14 | 30-80 ml/gm |
| 35.0 mm | 125 mm | 80-180 mm | M-14 | 50-125 ml/gm |
| 40.0 mm | 135 mm | 100-180 mm | M-15 | 75-150 ml/gm |
| 50.0 mm | 140 mm | 100-180 mm | T-22 | 125-250 ml/gm |
| Oval 22.0 mm | 80 mm | 60-120 mm | M-10 | 15-22 ml/gm |
| Oval 30.0 mm | 110 mm | 80-160 mm | M-14 | 30-80 ml/gm |
| Oval 35.0 mm | 125 mm | 80-180 mm | M-13 | 50-125 ml/gm |